Some 300 football games a season are fixed in Europe's top leagues, experts say. The BBC's Tim Mansel gains exclusive access to Sportradar, which tracks betting on football matches all over the world, looking for evidence of suspicious behaviour.
The former German football manager Sepp Herberger once famously said that people go to football matches because they do not know who will win. I have just watched a match in the almost certain knowledge not only of who would win, but with a fairly shrewd idea of what the score would be.
I was right on both counts. This game was played last weekend in the top division of a European league and I was not the only one who knew. At least £1.5m (€1.76m) was wagered on this game via betting exchanges – a game that would normally have attracted perhaps £50,000 (€58,800).
"We reckon that around 300 games a year are fixed in Europe," says Darren Small, director of integrity at Sportradar, a company that monitors more than 30,000 games across Europe for signs of betting patterns that may indicate a game is fixed.
Suspect scorelines
Listen to the full report
Hear more on this story on 5 live Investigates on Sunday, 21 November at 2100hrs on Radio 5 live, and on the BBC World Service's Newshour programme throughout Sunday, 21 November.
It is Saturday morning in a small office in southwest London. Darren's team is preparing for a busy weekend of football in Europe – 400 games on Saturday, a similar number on Sunday.
There is a certain buzz of expectation, because Oscar, one of the fraud analysts, has spotted a game he is sure has been fixed.
"We've been watching this for a couple of weeks now," he says.
"The odds have gone to a very suspicious level. We believe that this game will finish in an away victory. Usually an away team would have around a 30% chance of winning, but at the current odds this team is about 85% likely to win."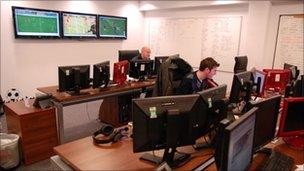 Sportradar has given 5 live Investigates exclusive access on condition that I do not reveal which teams or which leagues are involved in suspicious games.
I can say only that the game in question is being played in the top division of a league in Eastern Europe.
We watch it on one of the three computer screens at Oscar's desk. On the others he is monitoring the betting that continues after the game kicks off. The first goal goes in, and it is not what was expected. The home team has taken the lead. Oscar is unconcerned.
"If you look at the betting you'll see the odds haven't decreased. People still haven't turned towards the home team. I'm still confident, looking at the odds, that the away team will win."
At the moment we're following a goalkeeper who's moved across Europe to different clubs to ply his match-fixing tradeOscar, Fraud analyst, Sportradar
His confidence is rewarded within minutes, when the away team equalises.
Match-fixing trial
Sportradar monitor games for footballing federations and governing bodies, including Uefa.
Prosecutions for match-fixing are very rare, but this week the first trial in what has been called the biggest football betting scandal ever in Europecontinued in the German city of Bochum.
Four people – one a professional footballer – are accused of conspiring to fix 30 football matches across Europe. The four are part of a group of 15 people arrested in November 2009, following a police surveillance operation.
The results of football matches are fixed for two reasons: the first, purely so that gamblers can bet on them and be guaranteed a profit. The second, so that one of the clubs involved gains some form of footballing advantage – such as avoiding relegation.
Often news of the fix will leak so that gamblers jump on the bandwagon. The game we are watching falls, it seems, into the second category.
Oscar monitors the betting at half-time. He is especially interested in money being laid not on the result itself, but on the number of goals that are going to be scored.
"The most likely score lines are 2-1 or 3-1," he announces.
Part of Oscar's job is to track players and managers that have been spotted taking part in games which the company thinks have been manipulated.
"At the moment we're following a goalkeeper who's moved across Europe to different clubs to ply his match-fixing trade," he says.
"He's had the same betting patterns following his matches, and also he's committing the same blatant mistakes to concede goals."
Under surveillance
Oscar is also interested in the activity of a club manager – but his modus operandi is somewhat different. He does not throw games. He wins them.
"We believe he's specially recruited to get a team promoted," he explains, although not by improving their performance.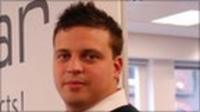 As a football fan you don't want to be in a position where you're watching a game that actually has a final result already pre-determinedDarren Small, Director of integrity, Sportradar
"He was the manager of a club in a well-known league and helped to oversee their promotion with a club official, we believe, buying at least six of the fixtures.
"He's now moved [to a different] division, and we've seen the same patterns in all his matches.
"The reason he's so important is because he has relationships with all his previous clubs. He has managed at least three or four of the teams he is now buying wins against. He has also managed a lot of players from the opposition, who are being told to lose these matches."
Back on Oscar's computer screen the game is still underway, and it does not take long for the fixture to follow the apparent script. From 2-1 up, the away team goes on to win the game with apparent ease.
There is a certain amount of satisfaction in the office. "I staked my reputation on this result," says a smiling Oscar. But it is satisfaction tinged with regret.
"As a football fan you don't want to be in a position where you're watching a game that actually has a final result already pre-determined," says Sportradar's Darren Small.
"You go to a match because you don't know the result – that's the point."
One of many
This is not the only game that the Sportradar team believe was fixed last weekend. There was at least one more, also in the top division of a league in Eastern Europe, where the pre-match betting indicated only one possible result, a result that duly transpired.
Darren's job is now to file detailed reports to the federations in charge of the two leagues involved. It is up to them to take action on the 1% of matches that are suspect.
On one occasion a report from Sportradar led to a club in Eastern Europe being removed from its national competition.
"That was a success for us," Darren says, "because it showed that what we're doing is being listened to. Everyone here was very happy."
But match-fixing is not only an Eastern European problem, as the Bochum court case makes clear – the accused are alleged to have swung matches in Belgium, Switzerland, Germany and Turkey.
Speaking to the BBC, a Uefa spokesman stressed that even where there are suspicious betting patterns, it is difficult to find proof that a match has been deliberately thrown.
"Individual football federations do not have the capability to investigate matters themselves – they have to raise it with the police and justice authorities in their own country."
He added that Uefa was lobbying to raise awareness of the match-fixing threat with criminal justice authorities across Europe.